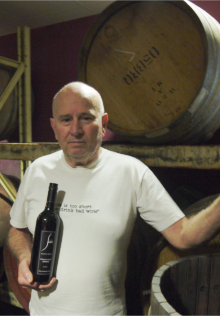 Salet Wines were founded by Michael Salecich in 2002 in the serene coastal hideaway Currarong on the South Coast of New South Wales (Australia). It quickly went from curious startup to serious garagiste winemaker, getting a reputation for small but amazing batches of Shiraz and Cabernet Savignon wines.
Michael first learnt about wine when he visited the Island of Korcula in Croatia where his parents were born. His relatives had been making wine for countless generations, and he was so impressed to see how they had to struggle just to be able to prepare to the rock covered terrain to be able to plant grape vines. And the taste, a different, fruitier, more luscious taste.
He decided to concentrate on making Shiraz and Cabernet Sauvignon and ordered quality fruit from selected areas of South Australia which he knew was the best location for his style of wines which are big full bodied high alcohol luscious wines created with traditional wine making techniques which Michael and his team have learnt over many years from some of the most experienced wine making in Australia and Croatia.
Salet Wines is what the French would identify as a "Garagiste" which refers to a group of innovative winemakers in the Bordeaux area of France, which produce small quantities of high quality, bigger, bolder, fruitier wines, and are often with a higher alcohol content and known to be trendy and receive higher ratings.
The fruit for the red wines is selected from high quality areas of Southern Australia, and is handpicked and transported by refrigerated vehicle to the cellar, where the grapes are crushed and pressed and then transferred into American and French oak barrels, in an air conditioned, dark quiet cellar for up to five years before bottling.
Traditional methods are used including room temperature fermentation and wood basket pressing. Being close to the sea, where the strong north east winds are prevalent the sea air is allowed to subtly influence the wine maturing in the oak barrels over those very long periods.
One of the unique features of Salet wines is that they have a smooth rich structure, and seem never to spoil. The wine in an opened bottle will keep its freshness for many days. This is due to not only the quality of the fruit, but also the extended oak barrel maturation.